Pia Palm - ISIA International Ski Instructor
Born 1966 in Saltsjöbaden, Sweden. Now based in Chamonix, France.
Some people ask me if I was born with skis on, I guess I am in one way. Skiing and being in the mountains has given my life so much. Happiness, friends, good moments, work and wonderful motivated  clients. My interest and curiousness how to get my clients to ski better has been taking me on different roads. I became a massage-therapist in 1994 and have basic medicin studies. I am now certified Virya Yoga instructor, Yoga Alliance, and the combination ski/yoga/massage or trekking/yoga/massage is magic. I enjoy adventures and competitions, a great memory  is the expedition to Muztagata 7546 m, China and my four podiums of the famous Derby de La Meije.  I'm also proud of the first place in the first ever Scandinavian Extreme Ski Championships in Riksgränsen, Sweden :) Long time now.The mountains and the life in the nature will always be important to us. Summers on the beach is well worth a few weeks as well....Or kids, Robina and Max joins us sometimes on days of work, the most awarding feeling.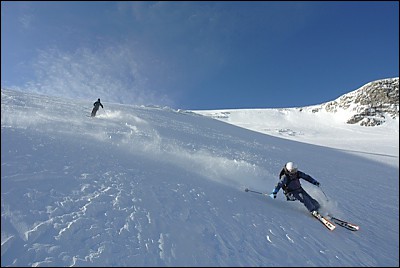 Education: European Avalanche Course 2013 • American Ski Instructors exam, PSIA • Swedish Ski Instructors exam, ISIA • New Zealand Telemark Instructors Exam, NZSIA • Swedish Ski Patrol exam, SLAO • Massage Therapist at axelssons Gymnastiska Institut, Sweden * Basic medicin at Axelssons Gymnastiska Institut * French Ski Instructors BE Diploma *  Yoga Alliance teacher training 200hrs + Certified ViryaYoga teacher * Expeditions:  Swedish Telemark Expeditions, Muztagata 7546m, China 1993 (holding the swedish record for highest female telemark skier) * mountainTIME Ski trips to Marocco, Iran, New Zealand, Japan, India, Corsica. Competitions: Great Instructors Race, Vail USA 1st place 1987 • Kebnekaise Classic, Sweden, all woman`s team 1992,1993 • Nordic Extreme Ski Championships 1st place 1995, 1996 3rd place 1999 • NZ Extreme Ski Championships 1st place 1994 • Derby de La Meije, 4 years on the podium  *